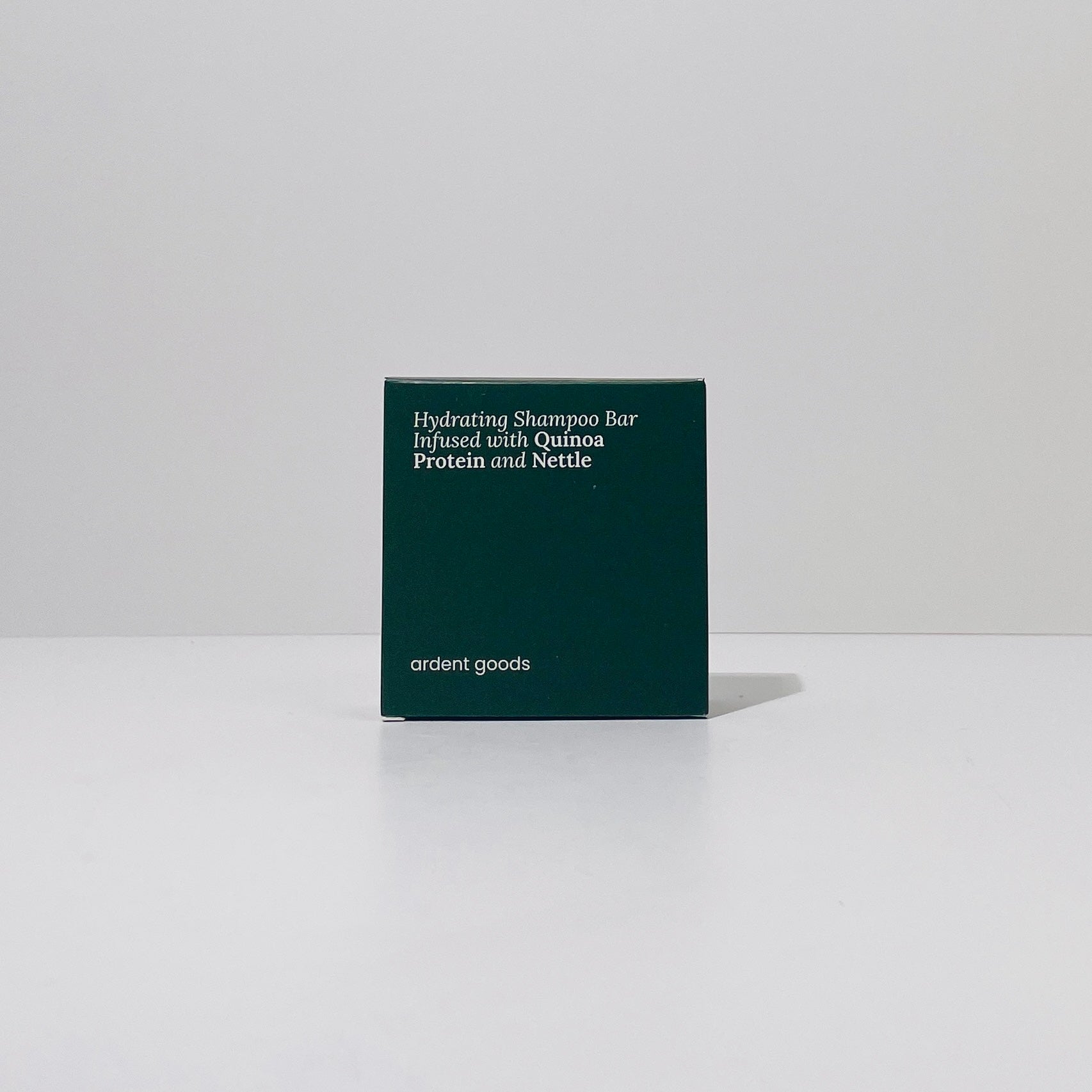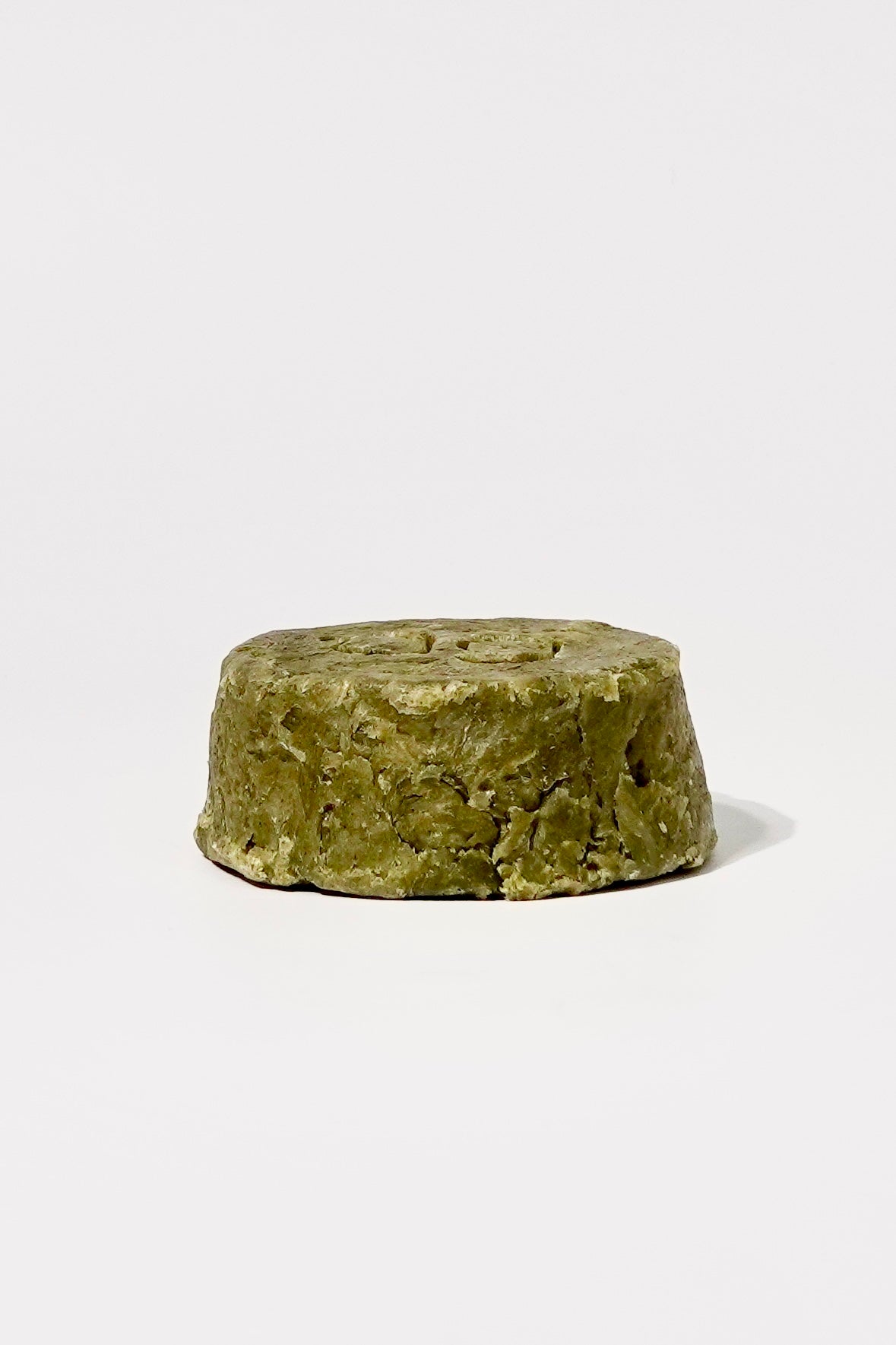 Hydrating Solid Shampoo Bar
Description
Upgrade your hair care routine with Ardent Goods' Hydrating Solid Shampoo Bar, designed to bring everyday hydration to your locks. This eco-friendly, plant-based solid shampoo bar is infused with nourishing Nettle Leaf and Hydrolyzed Quinoa Protein to leave your hair and scalp not only clean, but enticingly shiny and soft. Switching from traditional liquid shampoo and plastic packaging to a plastic-free solid shampoo bar is an easy and earth-friendly step towards an elevated, more mindful lifestyle.
Need to Know
Vegan formulation

Plastic-free

Palm oil-free

Enriched with essential oils

No sulfates or parabens

Recyclable packaging

Small-batch and human-made

3.7 net oz

Reusable Storage Bag available to prolong the life of your bar
Why Choose ag Hydrating Shampoo
Our solid shampoo bar is an eco-friendly alternative to traditional bottled shampoo. By eliminating plastic packaging, you reduce waste and lead a more sustainable lifestyle. Plus, our hydrating shampoo bar is infused with nourishing ingredients like Hydrolyzed Quinoa Protein and Nettle Leaf that work to hydrate, strengthen, and impart shine to your hair — so you're not only choosing a sustainable option, but a product that truly cares for your hair.
How to Use
Simply lather the shampoo bar under warm water and massage it directly onto your scalp, working into a good lather. For an extra nourishing boost, use the bar to "paint" your hair, concentrating especially on the ends. Rinse with water. After use, place the shampoo bar on a soap dish to dry out between uses to extend its life. For an even longer life, pair with our Reusable Storage Bag. Safe for all hair types.
Ingredients
Distilled Water, Sodium Cocoyl Isethionate (coconut derived) Sodium Cocoamphoacetate (coconut derived), Hydrolyzed Quinoa Protein, Cetyl Alcohol, Jojoba Oil, Nettle Leaf Powder, Peppermint Essential Oil.

Please consult your doctor or veterinarian before using products with essential oils if you are pregnant or have pets in your home.

Orders + Shipping + Returns
Processing
Much of our offering is handcrafted in small batches at our facility. We are delighted to process orders within 2-4 business days (M-F)
During holiday months of November and December, processing time may be extended.
Shipping
Once we've processed your order, you'll receive a shipping confirmation email.
UPS and USPS transit times vary between 2-5 business days.
First class shipping varies 5-8 business days.
Return & Exchange Policy
We do not accept returns or exchanges
Help minimize our carbon footprint by shopping with a mindful approach. Email us with questions prior to ordering at hello@ardentgoods.co
Canceling an order
If we haven't shipped yet, please reply to your order confirmation within 24 hours so that we may reference your order and proceed with your cancellation request promptly.
Common Questions
Do you gift wrap?
We are delighted to be part of your gifting process. Choose from a boxed ready to gift option in our gifts section or add desired items and a gift bag to your cart. Be sure to add your gift message at checkout.
What are your shipping practices?
We use kraft paper + padding and corrugated cardboard padding so that all of our shipping components can be recycled.
Occassionally a vendor will send us a bulk shipment with biodegradable peanuts. We save these to reuse with fragile shipments.
More answers
Can't find the information you're looking for? Here's our FAQ page.
We warmly invite you to contact us at hello@ardentgoods.co for further assistance.
Handmade with Care
The Comfort Collection
Providing a range of benefits for individuals seeking natural and holistic remedies for relaxation, pain relief, and sleep.
Explore