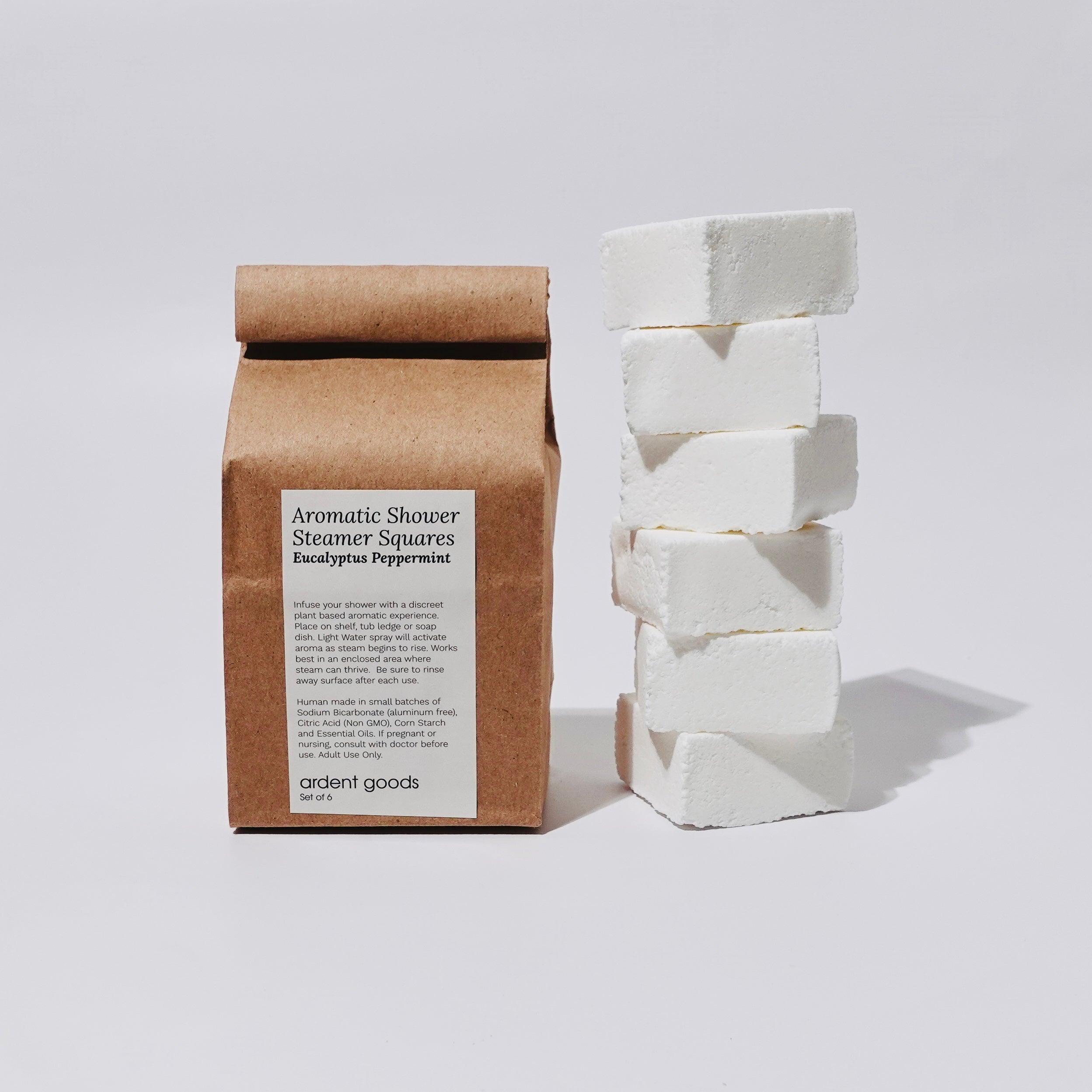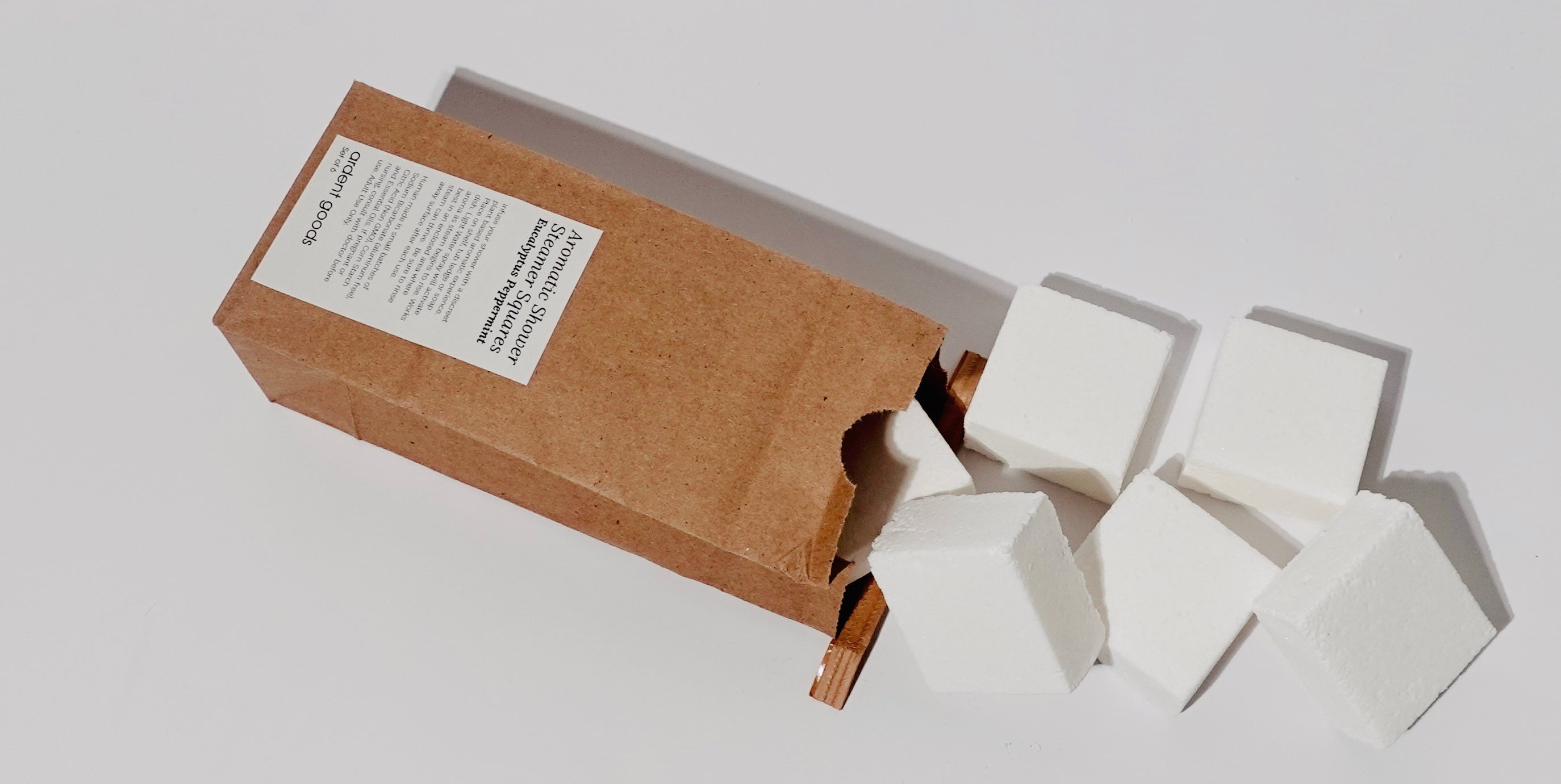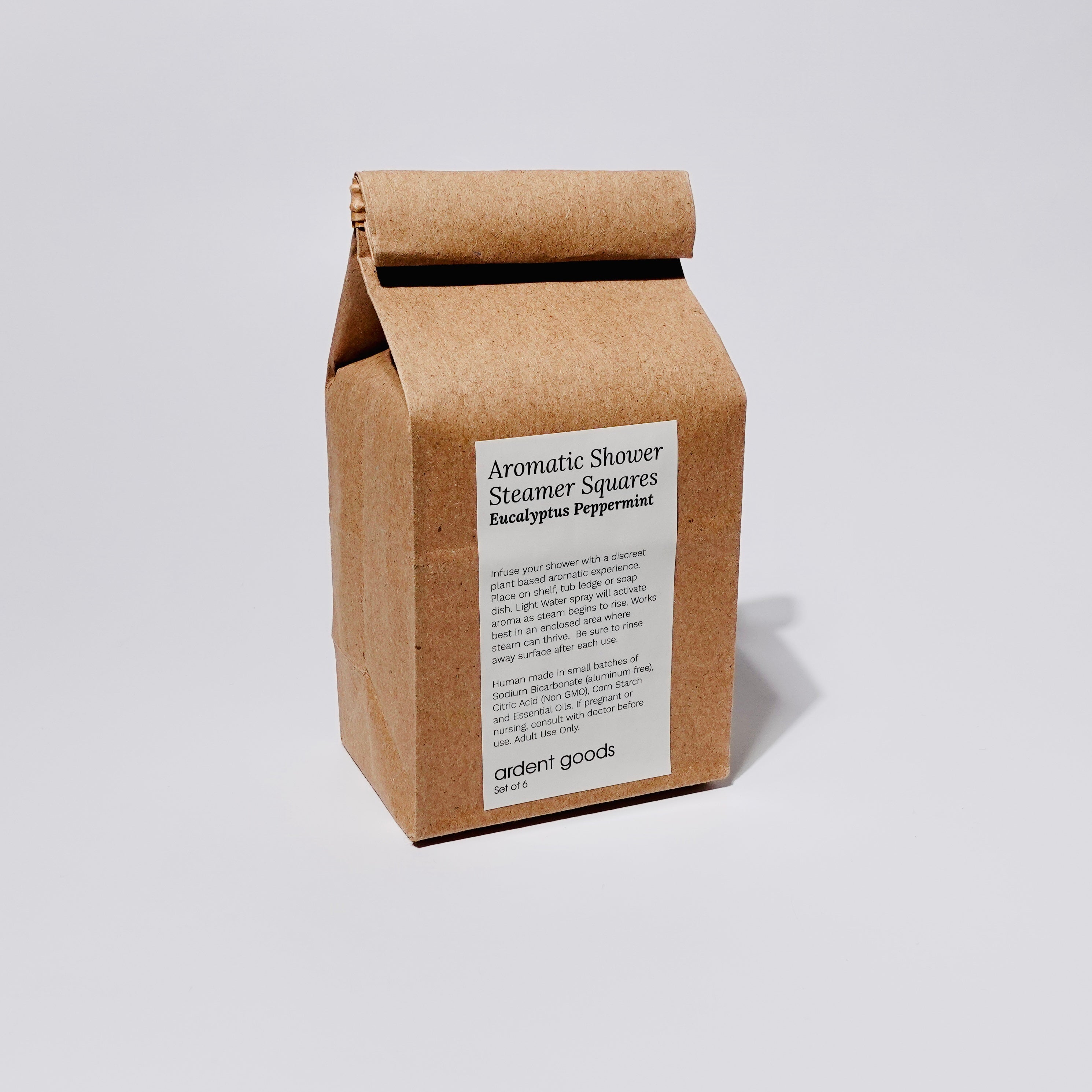 Aromatic Shower Steamer Tablets
Description
Elevate your daily routine with Ardent Goods' Shower Steamers. Activated by the steam of your shower, these small-batch shower steamers release an invigorating aroma of therapeutic essential oils to create an immersive sensory experience. Crafted with care for a more intentional lifestyle, our Shower Steamer tablets transform an everyday shower into a steam room, creating a luxurious at-home spa experience. Enjoy an uncompromising standard of self-care that is free of synthetic fragrances, dyes, sulfates, and parabens.
For a more intense aromatherapeutic experience, try our Aromatic Shower Steam Mist.
Neet to Know
Activated by shower steam

No synthetic fragrances

No dyes or micas

No sulfates or parabens

Small-batch and human-made

Crafted with therapeutic essential oils

For adult use only

Recommended for use in an enclosed area

Measures 3" in diameter, 1" tall

Recyclable packaging

Set includes 6 tablets
Why Choose ag Shower Steamer Tablets
Each unique variety of our Shower Steamers carries potent therapeutic benefits. The Eucalyptus Mint blend refreshes and invigorates, helping to clear the mind, and are ideal to treat the stuffy head that often accompanies cold or flu symptoms. Lemongrass carries an uplifting citrus scent, known to relieve anxiety and promote relaxation. Cedarwood Orange combines the grounding, calming benefits of cedarwood with the revitalizing, mood-boosting effects of orange. These scents, activated by the warmth of your shower, create an immersive aromatic experience, enhancing well-being and transforming your shower into a revitalizing sensory escape.
How to Use
Place a Shower Steamer on your shower floor, shelf or soap dish, away from heavy water spray. Allow minimal water spray to activate essential oils to fill the steam present in your shower. Shower until completely dissolved and enjoy the therapeutic aromatics that fill your shower space.
Ingredients
Lemongrass: Sodium Bicarbonate (aluminum free), Citric Acid (non-GMO), Corn Starch, Lemongrass Essential Oil.

Eucalyptus Mint: Sodium Bicarbonate (aluminum free), Citric Acid (non-GMO), Corn Starch, Eucalyptus Globulus Essential Oil, Peppermint Essential Oil.

Cedarwood Orange: Sodium Bicarbonate (aluminum free), Citric Acid (non-GMO), Corn Starch, Cedarwood Essential Oil, Orange Essential Oil.

If you are pregnant or have pets in your home, please consult with your doctor or veterinarian before using products with essential oils.
Orders + Shipping + Returns
Processing
Much of our offering is handcrafted in small batches at our facility. We are delighted to process orders within 2-4 business days (M-F)
During holiday months of November and December, processing time may be extended.
Shipping
Once we've processed your order, you'll receive a shipping confirmation email.
UPS and USPS transit times vary between 2-5 business days.
First class shipping varies 5-8 business days.
Return & Exchange Policy
We do not accept returns or exchanges
Help minimize our carbon footprint by shopping with a mindful approach. Email us with questions prior to ordering at hello@ardentgoods.co
Canceling an order
If we haven't shipped yet, please reply to your order confirmation within 24 hours so that we may reference your order and proceed with your cancellation request promptly.
Common Questions
Do you gift wrap?
We are delighted to be part of your gifting process. Choose from a boxed ready to gift option in our gifts section or add desired items and a gift bag to your cart. Be sure to add your gift message at checkout.
What are your shipping practices?
We use kraft paper + padding and corrugated cardboard padding so that all of our shipping components can be recycled.
Occassionally a vendor will send us a bulk shipment with biodegradable peanuts. We save these to reuse with fragile shipments.
More answers
Can't find the information you're looking for? Here's our FAQ page.
We warmly invite you to contact us at hello@ardentgoods.co for further assistance.
Handmade with Care
The Comfort Collection
Providing a range of benefits for individuals seeking natural and holistic remedies for relaxation, pain relief, and sleep.
Explore