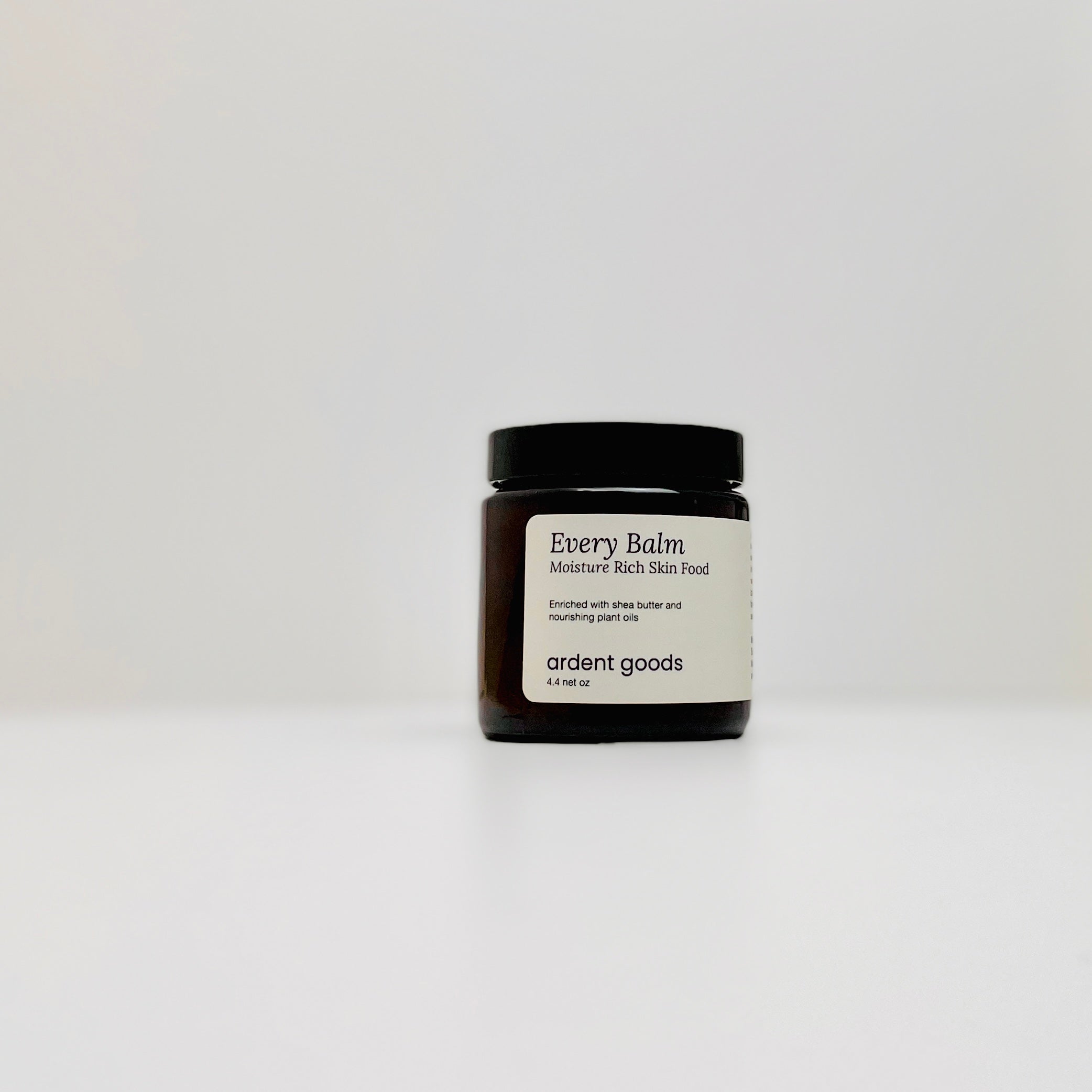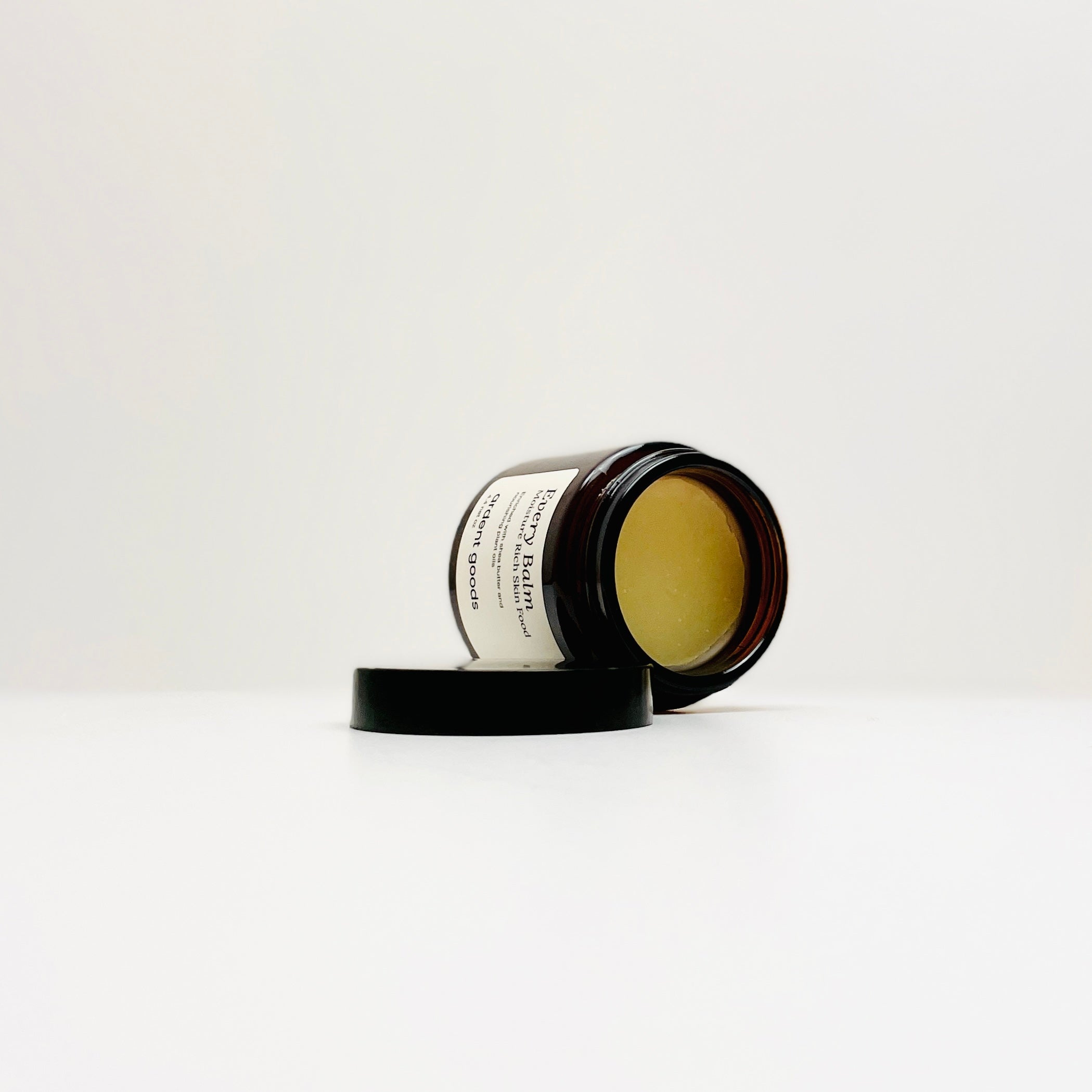 Description
Moisture-rich skin food with nourishing and restoravie plant oils.
Shea butter is rich in essential fatty acids, while almond oil provides vitamins A and E, both of which help to promote healthy skin. Beeswax helps to form a protective barrier after application, preventing moisture loss and helping to lock in the beneficial oils. Sunflower oil is a light, easily absorbed oil that is rich in omega-6 fatty acids, which helps to soothe and protect the skin. 
When used together, these oils create a powerful emollient that deeply penetrates the skin while providing a long-lasting barrier of protection and nourishment.
Formulated as a buttery balm that requires taking time to gently massage into skin. "Fast absorption" requires multiple applications throughout the day. Our formula is meant to provide substantial skin hydration that lasts. We're not hating the glow up on the finish, either. 
Highlights
Plastic Free
Palm Oil Free
Organic nourishing ingredients
No Sulfates or Parabens
Refillable/Reusable/Recyclable
Small Batch Human Made
How to Use
Use a clean spoon to scoop a pea sized amount onto your hand. Gently massage into skin. A little will go a long way in the morning. Use after washing liberally at night to lock in moisture. Use to moisturize all outer parts of your body, even your hair, lips and cuticles.
Ingredients
Made of Organic Unrefined Shea Butter, Organic Olive Oil, Organic Sunflower Oil, Organic Almond Oil, Organic Beeswax.

Sweet smell in product derives from the natural beeswax, butters and oils. Due to naturally derived unprocessed ingredients, product may show uneven surface, discoloration or gritty texture that melts on contact. It does not affect the quality or efficacy of the product. No artificial, synthetic fragrance or essential oils have been added.

The Every Balm does not contain water like traditional lotion. We choose to offer in a solid versus a whipped butter to eliminate the air and provide a more concentrated product.


Orders + Shipping + Returns
Processing
Much of our offering is handcrafted in small batches at our facility. We are delighted to process orders within 2-4 business days (M-F)
During holiday months of November and December, processing time may be extended.
Shipping
Once we've processed your order, you'll receive a shipping confirmation email.
UPS and USPS transit times vary between 2-5 business days.
First class shipping varies 5-8 business days.
Return & Exchange Policy
We do not accept returns or exchanges
Help minimize our carbon footprint by shopping with a mindful approach. Email us with questions prior to ordering at hello@ardentgoods.co
Canceling an order
If we haven't shipped yet, please reply to your order confirmation within 24 hours so that we may reference your order and proceed with your cancellation request promptly.
Common Questions
Do you gift wrap?
We are delighted to be part of your gifting process. Choose from a boxed ready to gift option in our gifts section or add desired items and a gift bag to your cart. Be sure to add your gift message at checkout.
What are your shipping practices?
We use kraft paper + padding and corrugated cardboard padding so that all of our shipping components can be recycled.
Occassionally a vendor will send us a bulk shipment with biodegradable peanuts. We save these to reuse with fragile shipments.
More answers
Can't find the information you're looking for? Here's our FAQ page.
We warmly invite you to contact us at hello@ardentgoods.co for further assistance.
Handmade with Care
The Comfort Collection
Providing a range of benefits for individuals seeking natural and holistic remedies for relaxation, pain relief, and sleep.
Explore