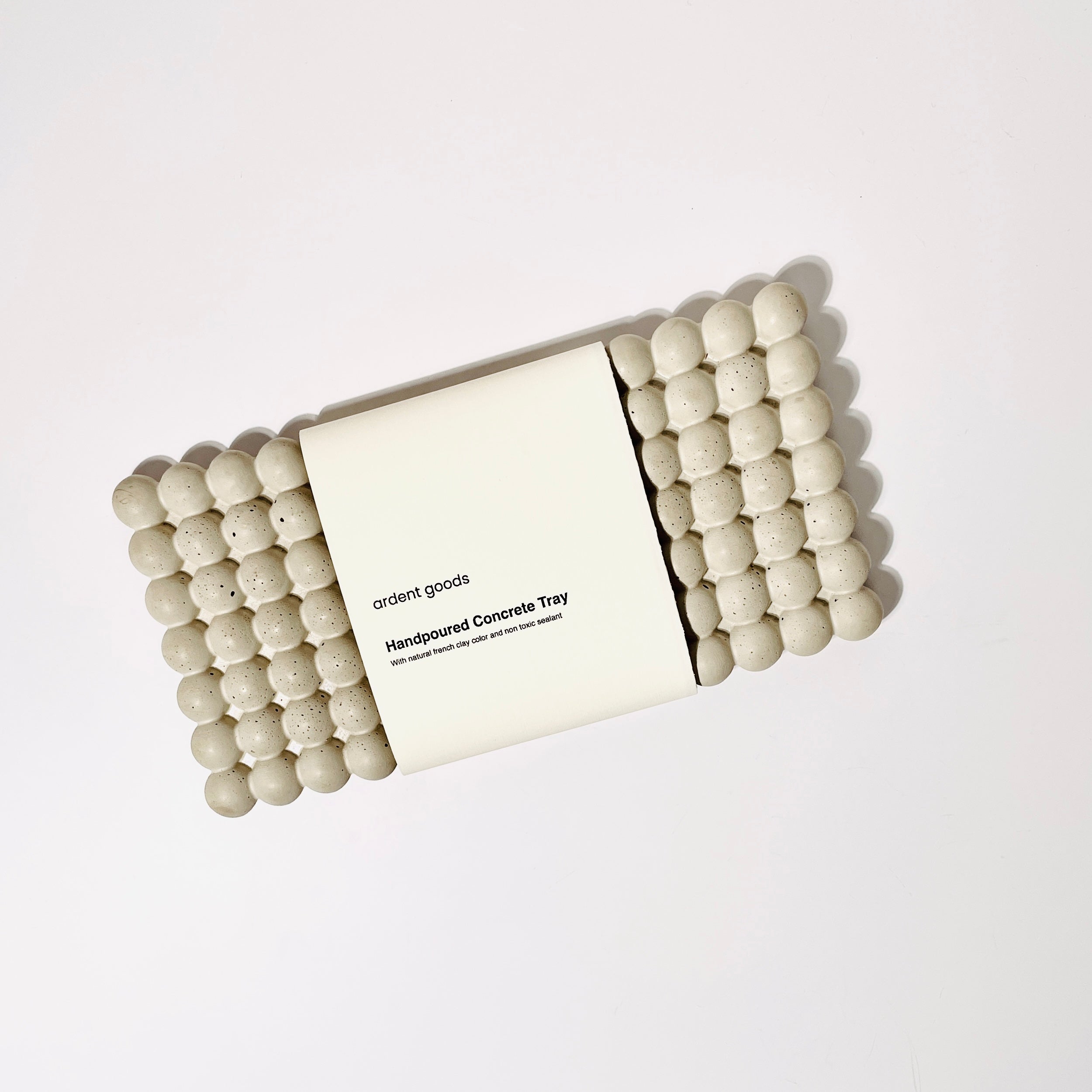 Description
Each tray is individually hand poured by ardent goods, ensuring that no two pieces are alike. What truly sets this tray apart is its exquisite infusion of Natural French Clay Pigment. 
Use it as a catch-all for keys and everyday essentials in your entryway, as a chic serving platter for appetizers during gatherings, or even as an artistic centerpiece to display your cherished objects. Use it to rest your smudge stick during meditation or as a tray to hold your solid hair care and body bars. Its versatility knows no bounds.
How to Use
To maintain your tray's appearance: Quickly clean spills to avoid staining. Use mild soap and water for stains, then rinse and dry. Handle with care to prevent chipping or cracking. Store away from direct sunlight and temperature changes to prevent fading.

To clean, use a damp, soft cloth for dust and spills. Avoid abrasive cleaners that harm the concrete and pigments. Protect from heat with mats when placing hot items to prevent damage and discoloration.

Ingredients
Concrete, French Clay and non toxic sealant.
Orders + Shipping + Returns
Processing
Much of our offering is handcrafted in small batches at our facility. We are delighted to process orders within 2-4 business days (M-F)
During holiday months of November and December, processing time may be extended.
Shipping
Once we've processed your order, you'll receive a shipping confirmation email.
UPS and USPS transit times vary between 2-5 business days.
First class shipping varies 5-8 business days.
Return & Exchange Policy
We do not accept returns or exchanges
Help minimize our carbon footprint by shopping with a mindful approach. Email us with questions prior to ordering at hello@ardentgoods.co
Canceling an order
If we haven't shipped yet, please reply to your order confirmation within 24 hours so that we may reference your order and proceed with your cancellation request promptly.
Common Questions
Do you gift wrap?
We are delighted to be part of your gifting process. Choose from a boxed ready to gift option in our gifts section or add desired items and a gift bag to your cart. Be sure to add your gift message at checkout.
What are your shipping practices?
We use kraft paper + padding and corrugated cardboard padding so that all of our shipping components can be recycled.
Occassionally a vendor will send us a bulk shipment with biodegradable peanuts. We save these to reuse with fragile shipments.
More answers
Can't find the information you're looking for? Here's our FAQ page.
We warmly invite you to contact us at hello@ardentgoods.co for further assistance.
Handmade with Care
The Comfort Collection
Providing a range of benefits for individuals seeking natural and holistic remedies for relaxation, pain relief, and sleep.
Explore