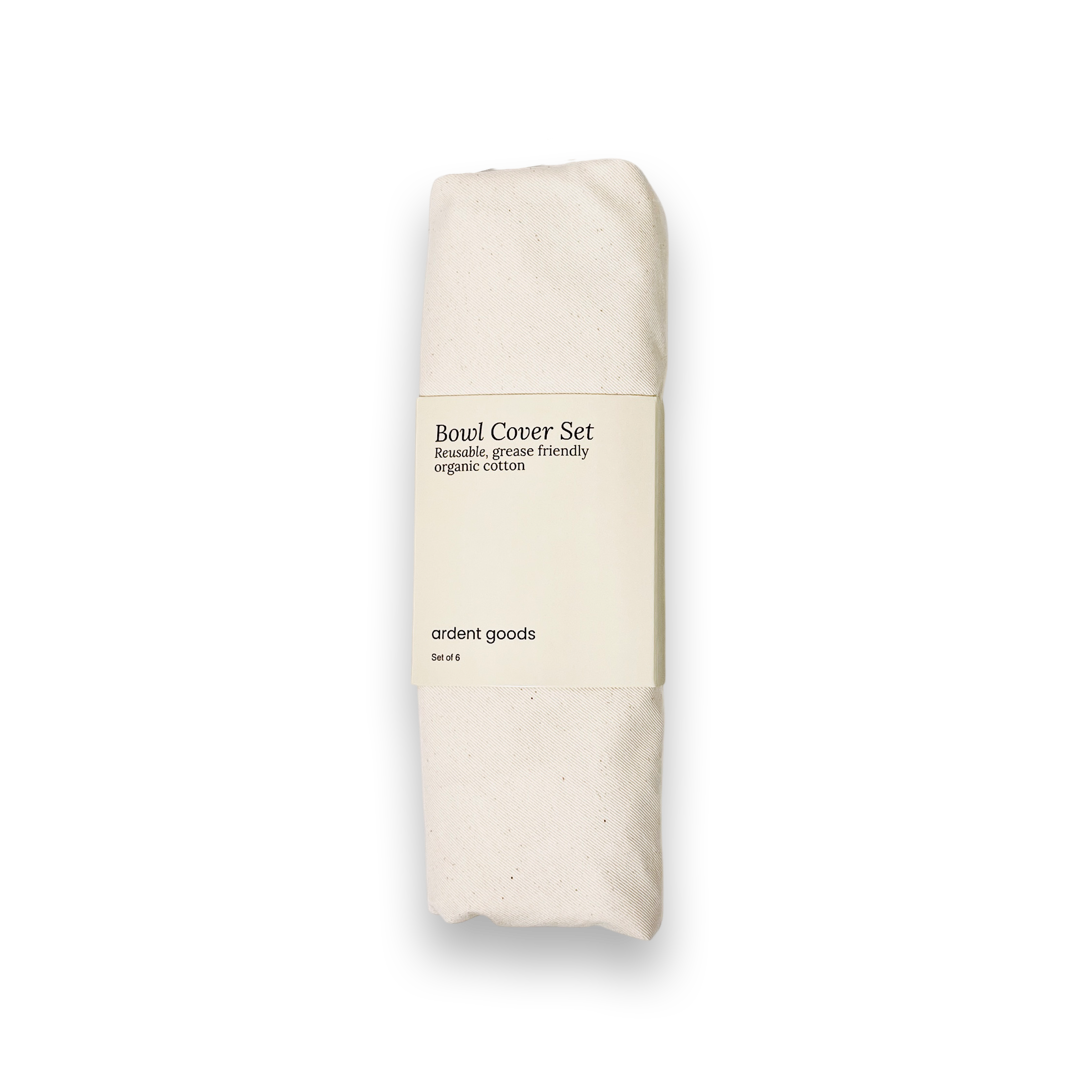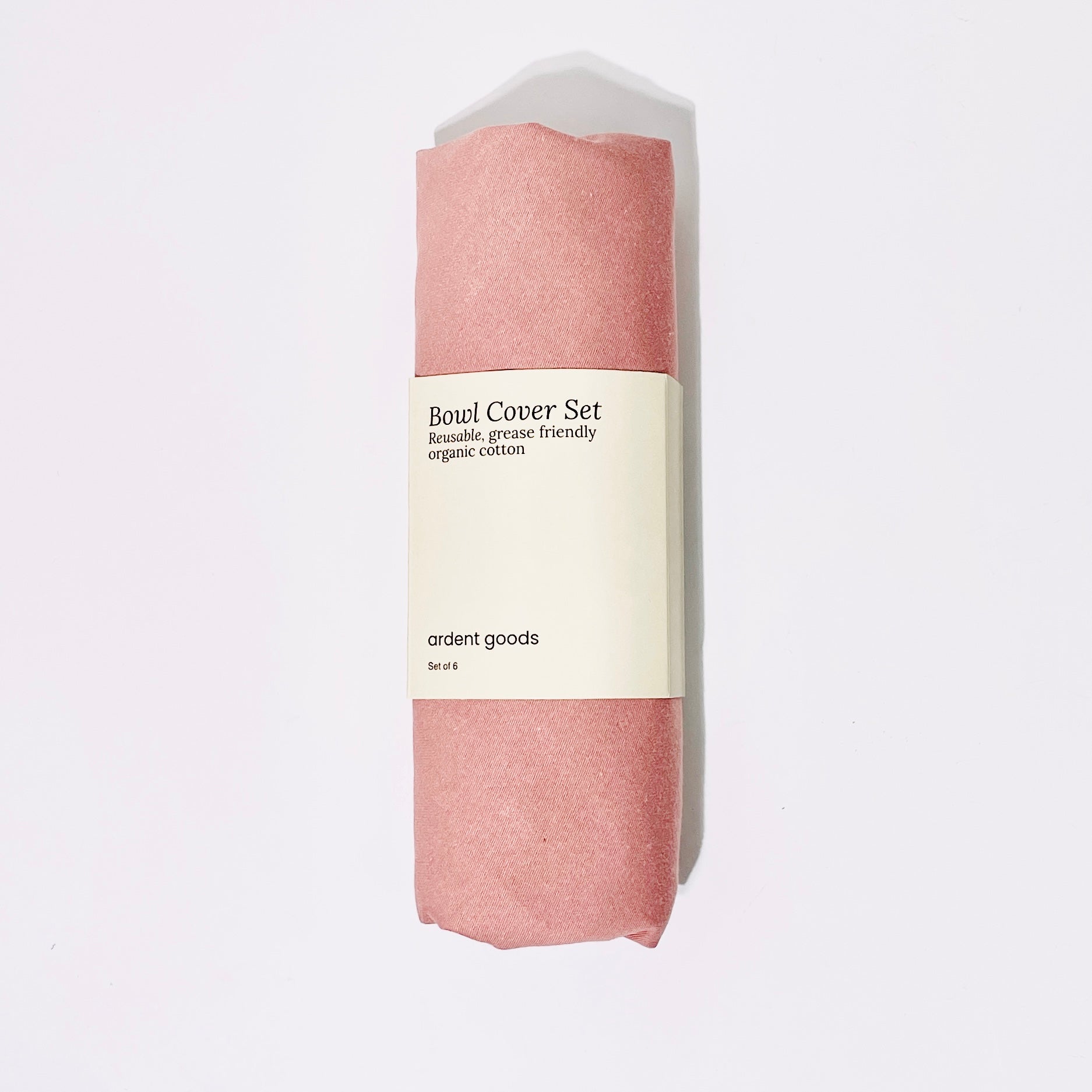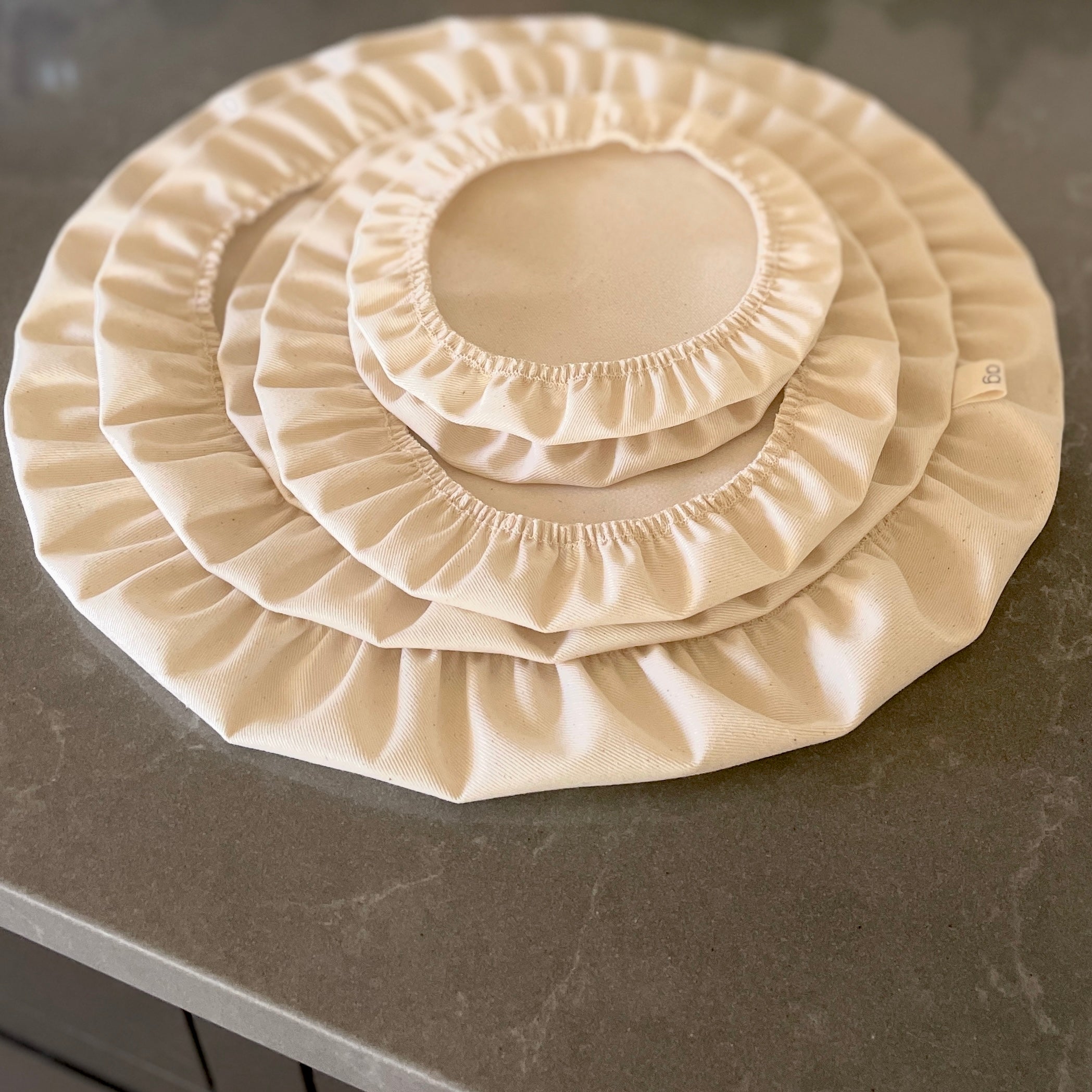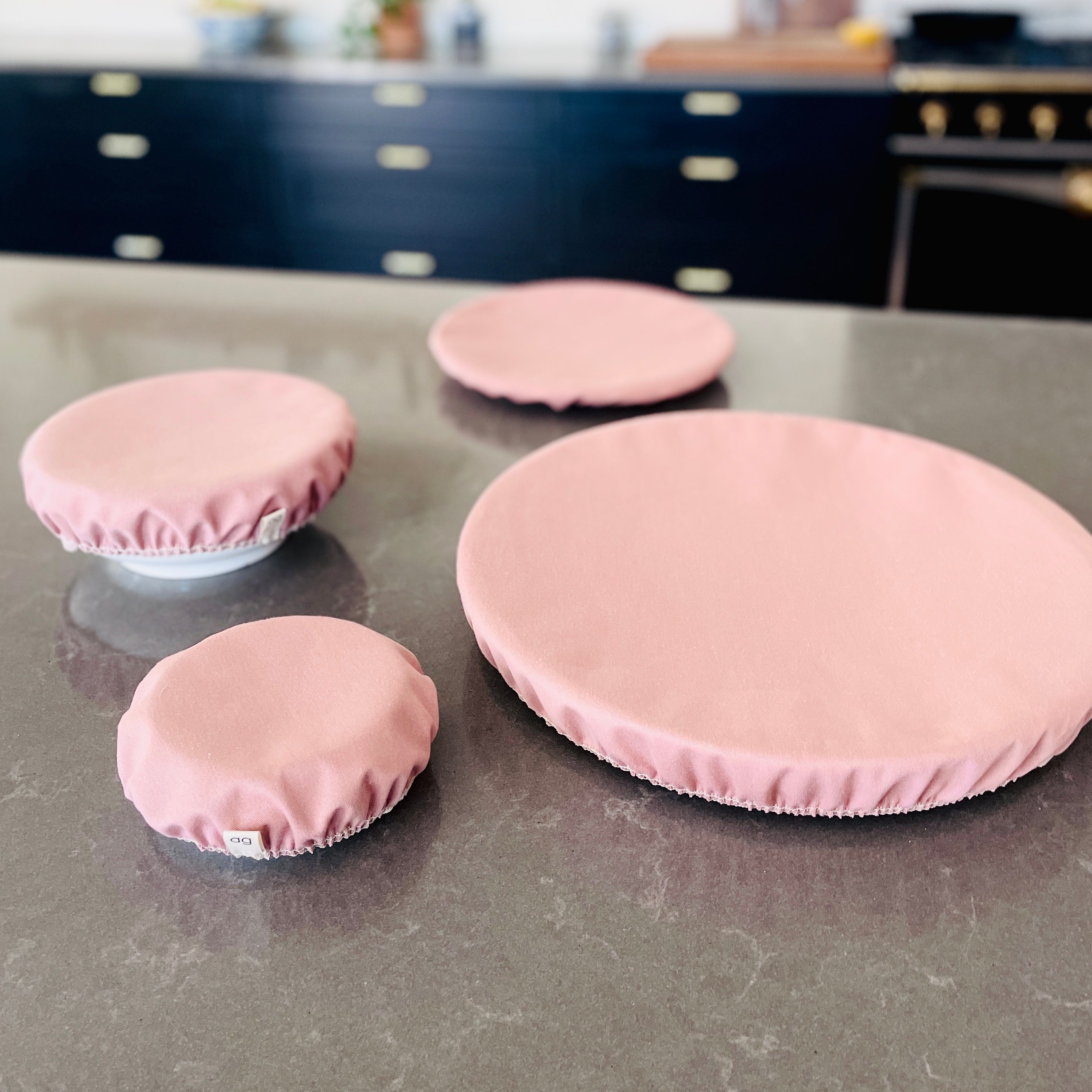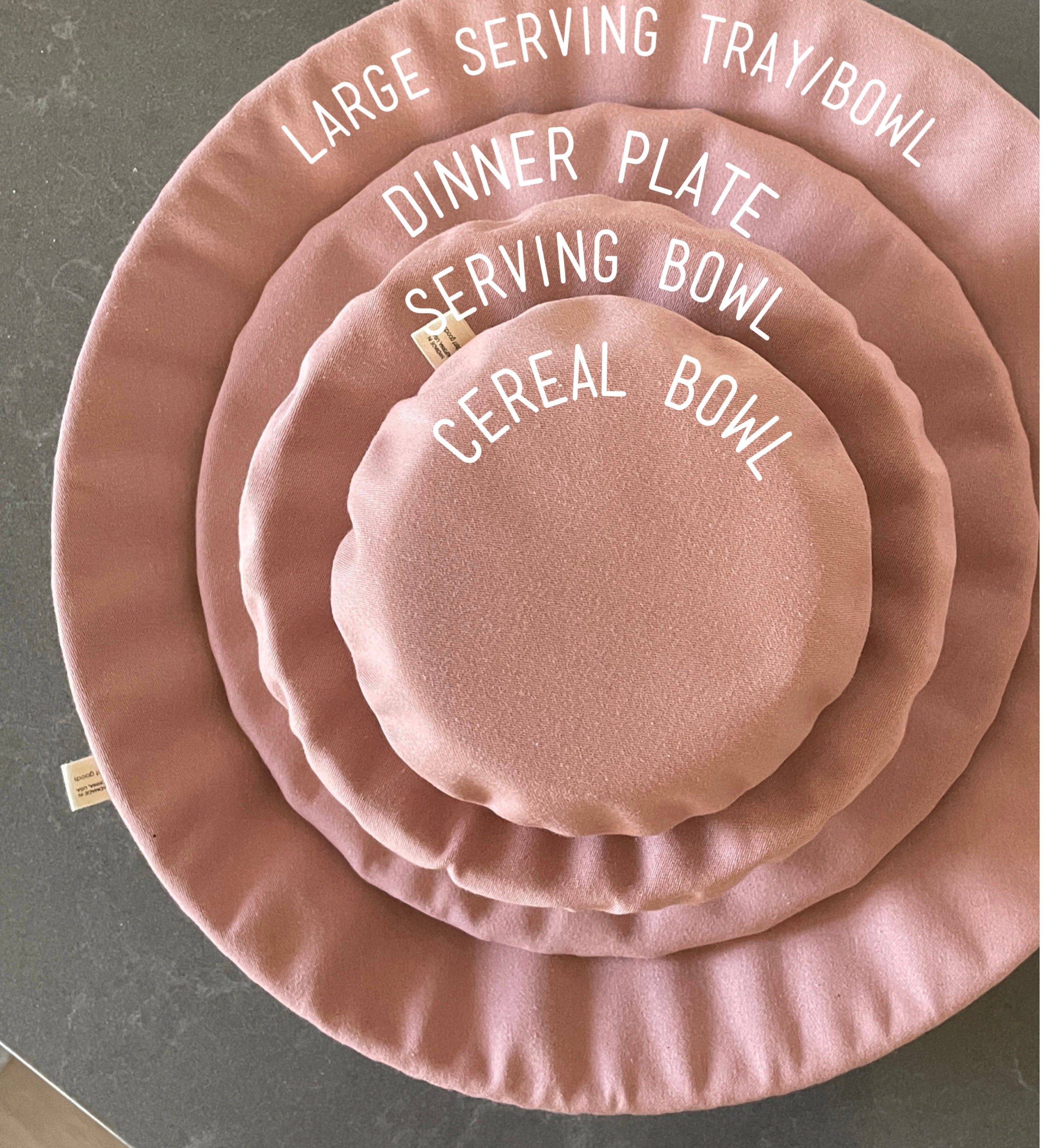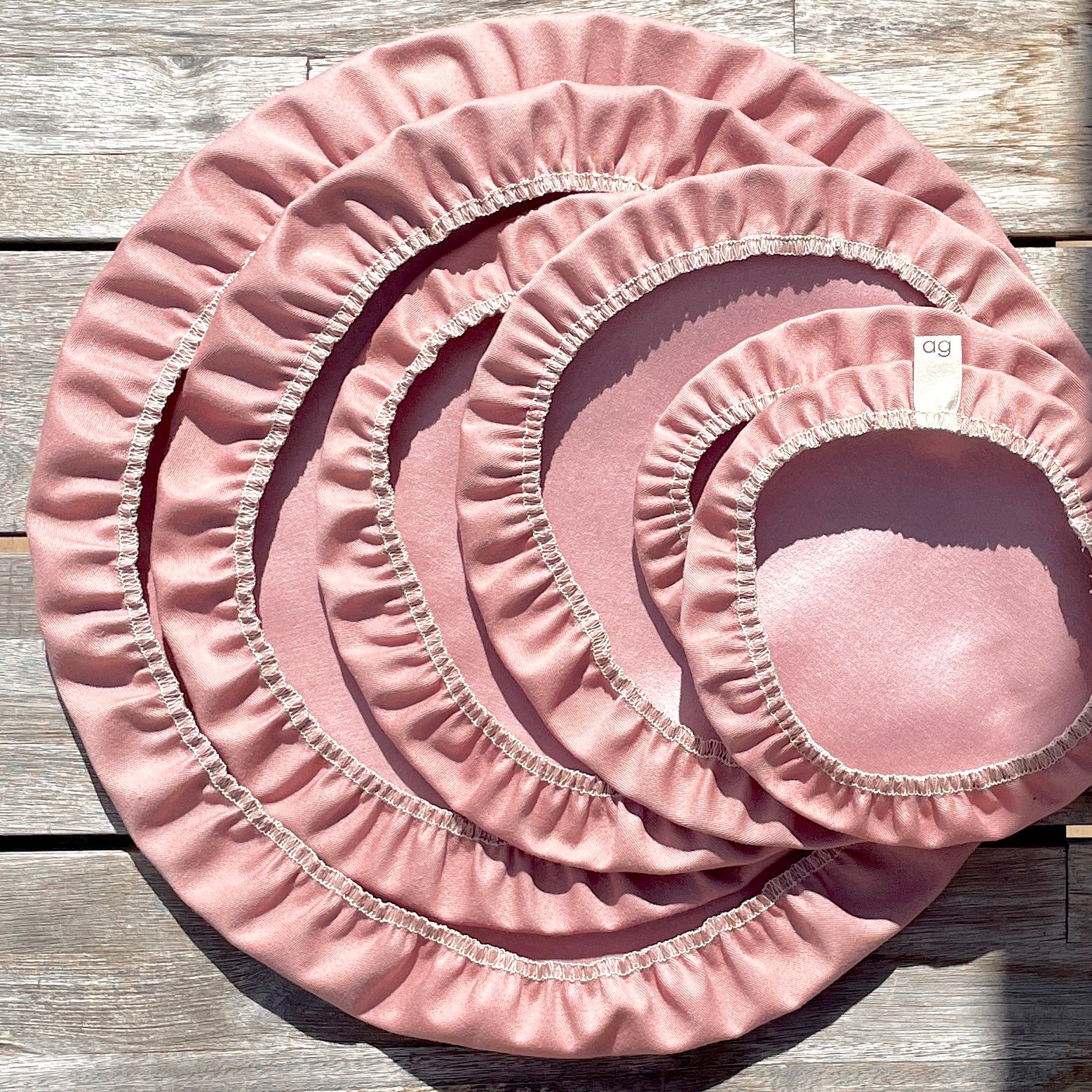 Organic Cotton Bowl Cover Set
Description
Instead of scooping leftovers into another container and scrambling to find the container top, conveniently cover up your leftovers in their bowl and enjoy for lunch the next day. 


Set of 6 covers 
2 small bowl
2 serving/pho bowl 
1 plate 
1 large serving platter or bowl 
Made from a sustainable food safe fabric with a cotton rope closure to avoid zippers, or other elements that do not easily or quickly biodegrade. 
Highlights
Vegan
Organic Recycled Textile
Reusable
Small Batch Human Made
Dimensions
Set includes one 10" cover and one 7" cover
How to Use
Wash hot, Wash with like colors, Dry medium, No Fabric softener, Only non-chlorine bleach if needed, Warm iron if needed on fabric side
Ingredients
About the Fabric

* Uniquely food safe. With a special non toxic coating, 100% Free of PFOS, PFOA, lead, dioxins, heavy metals & BPA; Free from phthalates: contains no DEHP, DBP, BBP, DINP, DIDP and DnOP.  It is CPSIA certified, meeting stringent standards by the U.S. Consumer Products Safety Commission on lead and phthalates and flammability. It is also certified for repeated-use food storage per 21 CFR 175.300 and compliant with 21 CFR 177.1680 and 175.320.
* Withstands use with Baked goods, dairy products, fats, oils, dry food, water, food, curries, vegetables, sandwiches, sauces, pasta. The food can be placed hot or cold, can be used for storing in the refrigerator of freezer.
* The fabric is manufactured in controlled conditions in American textile mills.
* Engineered to meet exacting USA requirements, this is the highest quality-assured organic fabric on the market.
* The fabric is NOT stain resistant. Stain resistance requires a chemical treatment that would make it not food safe.

Orders + Shipping + Returns
Processing
Much of our offering is handcrafted in small batches at our facility. We are delighted to process orders within 2-4 business days (M-F)
Shipping
Once we've processed your order, you'll receive a shipping confirmation email.
UPS and USPS transit times vary between 2-5 business days.
First class shipping varies 5-8 business days.
Return & Exchange Policy
We do not accept returns or exchanges
Help minimize our carbon footprint by shopping with a mindful approach. Email us with questions prior to ordering at hello@ardentgoods.co
Canceling an order
If we haven't shipped yet, please reply to your order confirmation within 24 hours so that we may reference your order and proceed with your cancellation request promptly.
Common Questions
Do you gift wrap?
We are delighted to be part of your gifting process. Choose from a boxed ready to gift option in our gifts section or add desired items and a gift bag to your cart. Be sure to add your gift message at checkout.
What are your shipping practices?
We use kraft paper + padding and corrugated cardboard padding so that all of our shipping components can be recycled.
Occassionally a vendor will send us a bulk shipment with biodegradable peanuts. We save these to reuse with fragile shipments.
More answers
Can't find the information you're looking for? Here's our FAQ page.
We warmly invite you to contact us at hello@ardentgoods.co for further assistance.
Handmade with Care
The Comfort Collection
Providing a range of benefits for individuals seeking natural and holistic remedies for relaxation, pain relief, and sleep.
Explore